Critical Infrastructure
CBRN attacks can be targeted against many types of facilities ranging from governmental and military administration to financial, cultural and public services and privately owned companies. An attack would not only contaminate the building and the people inside, but paralyze the whole functionality of the target and lead to casualties and fatalities, panic and loss of money. Equipping critical infrastructure with the appropriate CBRN monitoring systems increases the level of security both in the building and in its neighborhood – bringing stability.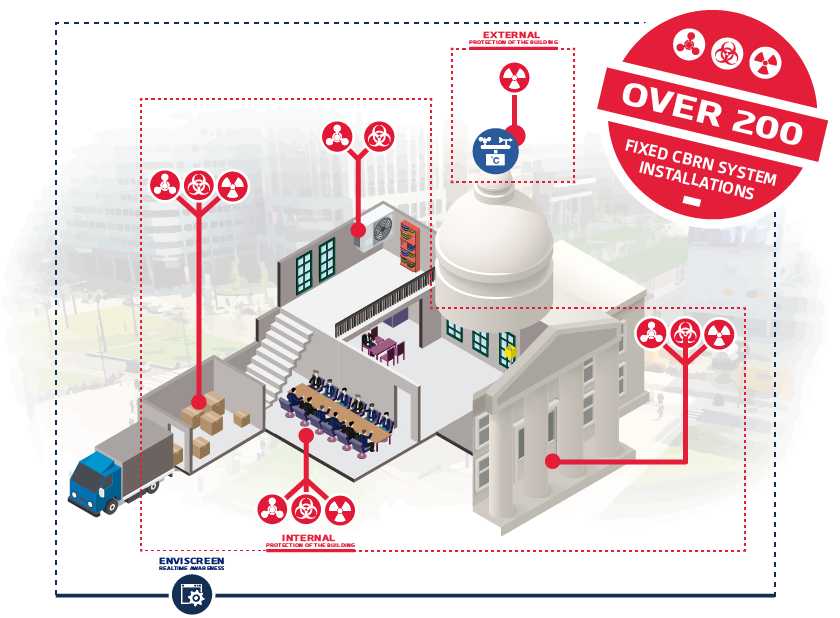 Buildings are vulnerable to releases of chemical, biological and radiological agents for several reasons. They gather masses of people for long periods of time, receive mail and cargo and have high occupant density compared to outdoor areas. Furthermore, HVAC systems and movement of people can effectively transport harmful airborne material throughout the facilities. Enclosed spaces with rather stable atmospheric conditions can retain high agent concentrations and reduce the amount and durability requirements for the release agents.
Building CBRN Monitoring Systems provide significant value to CBRN incident management. By enabling timely threat detection and mitigation of the hazardous effects, they complement the passive and responsive protection measures of buildings.
14.03.2018 CBRN Threats in Buildings
CLICK TO WATCH WEBINAR RECORDING
Key References
EnviScreen CBRN Monitoring Systems have been implemented in variety types of buildings related to governmental and military administration, health and public services and transportation. These include targets e.g. in the following countries: — Vietnam, Kuwait, Saudi-Arabia, South-Korea, China, Oman, Finland —
Key Components