A team of experts of the SSTC NRS (Scientific and Technical Center for Nuclear and Radiation Safety) in Ukraine has been performing measurements of radionuclide content in Kyiv and suburbs areas, due to the current situation of the wildfires in the Chernobyl Exclusion Zone.
The measurements were carried out using Environics' RanidSONNI mobile radiological laboratory and special portable equipment. RanidSONNI is a sophisticated radiological measurement vehicle solution, which is designed to detect and analyze potential radiological and nuclear threats. This same vehicle was already used by the SSTC in 2017 to conduct a survey on Ukrainian territories with potentially radioactively contaminated soils, materials, infrastructures, foodstuff, etc and in 2018, to survey the UEFA Champions League final.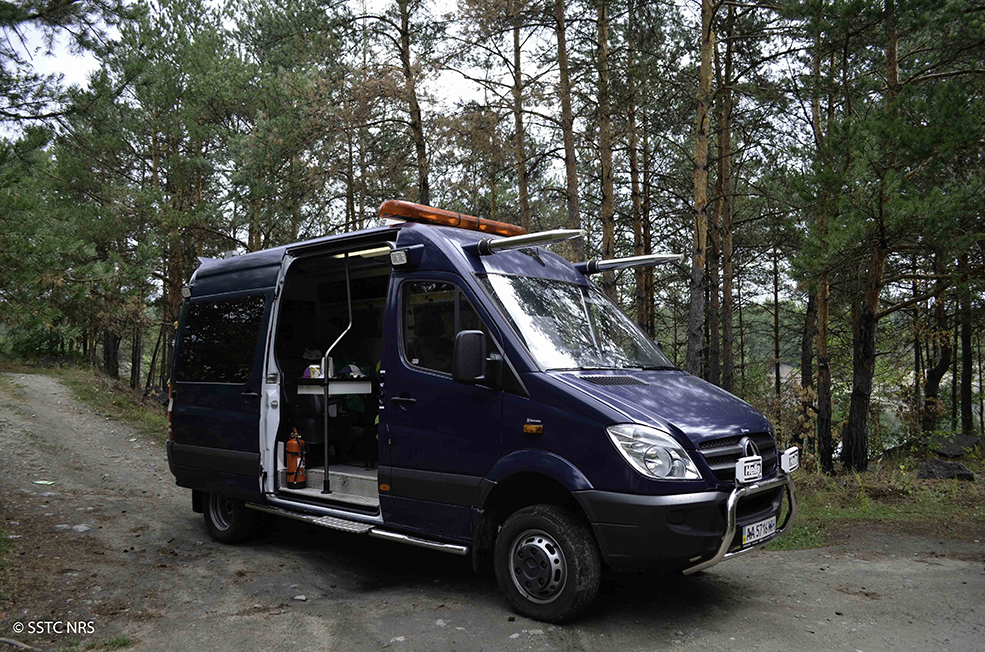 Image courtesy of SSTC NRS
It was stated that as of 17:00 on 5 April, the fire in the Exclusion Zone did not affect the radiological situation in Kyiv and the suburbs, however if the fire area increases, the SSTC NRS will conduct additional measurements.
Original article from the SSTC:
https://sstc.ua/news/operativne-povidomlennya-shodo-radiacijnoyi-situaciyi-u-kiyevi-ta-peredmisti
Further info on RanidSONNI:
https://www.environics.fi/product/ranidsonni/
Environics is currently conducting a study in which the performance of its bioaerosol detector, ENVI BioScout, is evaluated in the context of natural bioaerosol production possibly responsible for spreading the virus. The recent scientific research has indicated that aerosol and fomite transmission of SARS-CoV-2 are plausible, as the virus can remain viable and infectious in aerosols for multiple hours. In addition, the preliminary results from the modelling made by a Finnish research consortium support the idea of small aerosol emissions created by a coughing person to be spread and to be retained in a public space.
The ENVI BioScout is an integral part of Environics` mobile and fixed installed EnviScreen CBRN Monitoring Systems, and it has been designed for monitoring the ambient air for releases of airborne potential biological threats in the particle size category of 0.5 – 10 µm. Its performance has been proven in intentional disseminations of biothreat simulating agents. e.g. aerosolized virus simulants, in the field. However, the ongoing project takes a different approach and focuses on monitoring, detection and sample collection in a hospital environment. The study is conducted in co-operation with the local the South-Savo Social and Health Care Authority in Mikkeli. It aims to find new tools for prevention and management of biothreat events caused by virus disease outbreaks like the ongoing Covid-19 pandemic.